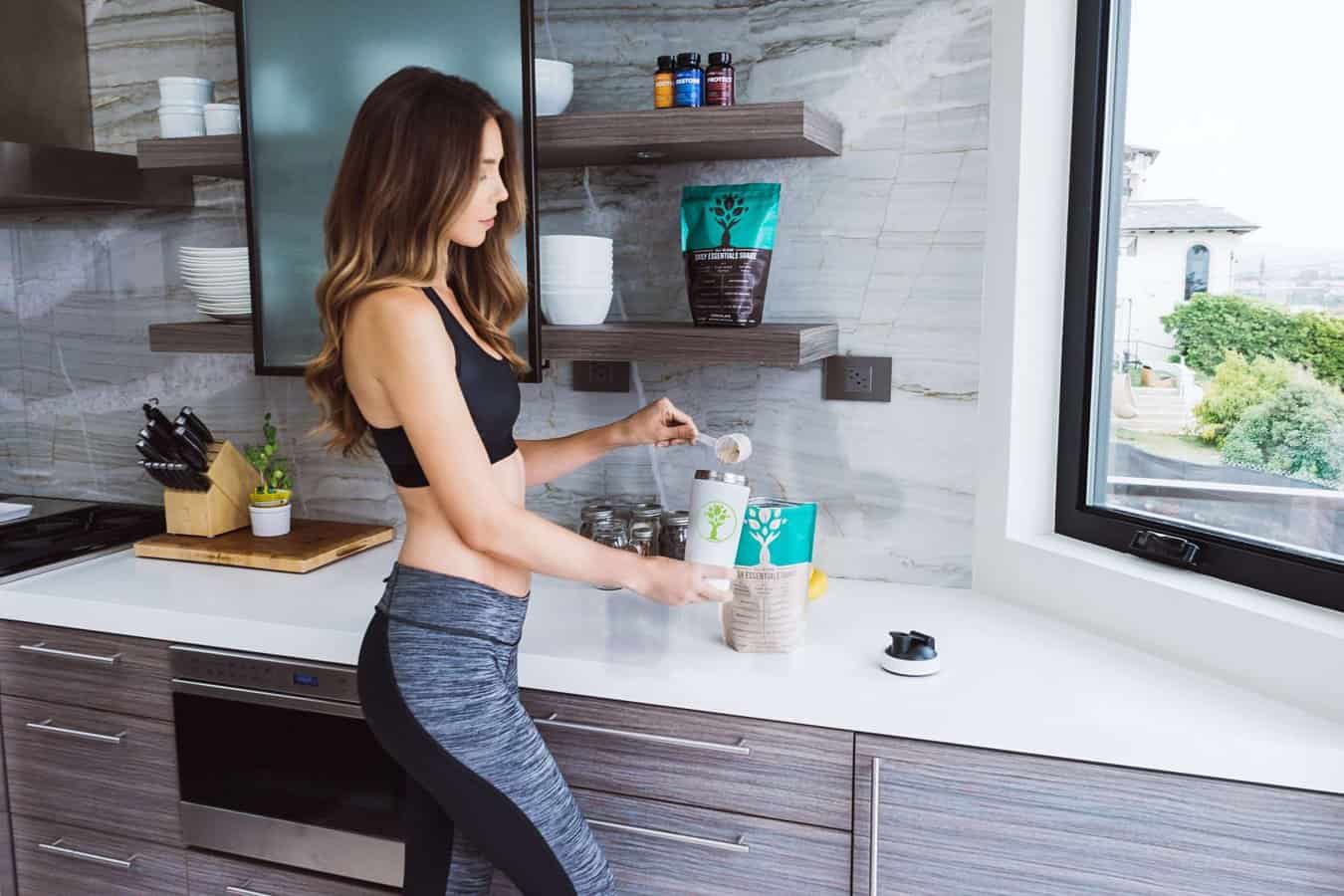 Fitness
Best Low Carb Protein 2023
Article Updated On: May 27, 2023
I have been on a health and wellness journey ever since I had my son in 2017 and gained 70 lbs from that pregnancy. One of the main thing that works for me is keeping my diet as low carb as possible. That is why I wanted to share with you some of my go to's for the best low carb protein options for 2023. I have put together some of my favorite low carb products and flavors on the market.
Embarking on this health and wellness journey has been nothing short of transformative. In 2017, after bringing my beautiful son into the world and gaining a hefty 70 lbs from the pregnancy, I realized a change was necessary. I wasn't just responsible for myself anymore – I had a little one relying on me. So, I committed to getting healthier, and a significant part of that commitment revolved around adopting a low carb lifestyle. And let me tell you, the impact has been tremendous! It's for this very reason that I'm beyond excited to share with you my personal selection of the best low carb protein options for 2023.
I've spent countless hours researching, tasting, and scrutinizing numerous products to curate this list. These are not just proteins – these are my favorite flavors, my daily companions in this ongoing journey to better health. So, let's dive in and explore these wonderful products that have become such an integral part of my wellness narrative.
---
I love how many vitamins are in this powder, that's very hard to find in other brands. This powder blends great. I found that by the time I'm finished with my shake, it's super thick, like a really thick milkshake and definitely keeps you full for a long time. Great for meal replacements. It breaks up easily, has glutamine, BCAA's and a multivitamin combined into the recipe so now I don't need to buy any additional supplements! And the strawberries and cream taste is quite balanced. My favorite protein by far!
Why we like this product
ZERO/LOW CARB OPTIONS- helps for those watching their calorie intakes.
Vitamin C and Zinc Provides Immune Support along with Vitamin E.
100% WHEY PROTEIN ISOLATE – a high-quality protein source providing 25g per serving to support muscle building and recovery.
This product supports your active lifestyle and can be used post-workout, between meals.
KETO-FRIENDLY – this protein powder can help support your ketogenic macros.
This product is gluten and lactose Free.
---
Integrating the Premier Protein Whey Protein Powder, Chocolate into my daily routine has been a game-changer for me. I kick-start my day with a protein shake, concocted with a generous scoop of this protein powder (39g to be exact), 50g of oats for a slow-releasing energy source, 55g of nonfat Greek yogurt for a creamy texture, and 70g of frozen blueberries for a burst of fruity goodness. Depending on my mood and nutritional needs for the day, I alternate between water and whole milk as the liquid base.

This powerhouse shake packs approximately 500 calories and a whopping 50g of protein when made with milk, making it a convenient way to meet my daily macronutrient goals. The 30g protein per serving that this powder offers is substantial and suits my needs perfectly. But the winning point, for me, is undoubtedly the chocolate flavor. It's rich, indulgent, and makes my morning shake feel like a treat rather than just a nutritional requirement. This product has effortlessly woven itself into my daily dietary tapestry, proving that getting the necessary protein doesn't have to be a boring or difficult task.
I use this protein powder to make my daily protein shake which includes:
39g of protein powder
50g of oat
55g of nonfat Greek yogurt
70g of frozen blueberries
either choices of water or whole milk
It gives me approximately 500 calories and 50g of protein with milk. It is easy to get good amount of protein when you trying to fulfill your daily macro nutrients. 30g per serving is a lot, and works for me. I really like the chocolate flavor as well.
Why we like the product
Ever since I began my journey to a healthier lifestyle, the Premier Protein Whey Protein Powder in Vanilla flavor has been my loyal companion. What really stands out for me is its exceptionally smooth texture and delicious vanilla taste that never fails to satiate my sweet cravings. But it's not just the taste that has me hooked; the nutritional value is equally impressive. Each scoop offers a substantial 30 grams of high-quality protein with just 3 grams of carbs. An ideal balance for my low-carb diet. I find that it's particularly effective after my workout sessions, helping to speed up my muscle recovery and keep me energized.

Moreover, it's remarkably easy to blend, making it a convenient and fast option for my busy schedule. Whether I stir it into my morning oats or whip up a protein-packed smoothie. The versatility of this powder makes it a staple in my daily routine. The Premier Protein Whey Protein Powder, Vanilla, truly is a blend of taste, nutrition, and convenience, and has played a significant role in my journey towards achieving and maintaining my fitness goals.
Each serving contains 30g Protein* with all the essential amino acids, 150 calories, and 1g Sugar, *100% of protein from Whey
Available in two delicious flavors: Chocolate milkshake, vanilla milkshake, try it mixed with water or milk, blended into your favorite smoothie recipe, or baked into protein packed recipes
No Soy ingredients, GLUTEN FREE
6.6g naturally occurring BCAA's
---
If you like the thin mint girl scout cookies then this one is for you. I've used this Whey for years, on and off over the past decade. And WOW they have stepped it up. I remember first taking this and it was difficult to mix and the flavor was mediocre at best. BUT NOW, I am absolutely blown away how good this stuff tastes. Blend it up with milk and ice and you have a low carb protein post work out treat that will satisfy you muscles and tastebuds.
My love for thin mint Girl Scout cookies and commitment to fitness found a perfect match in this Whey protein powder. Over the years, this product has become a trusted companion in my health journey. The road has been long, with its fair share of bumps and turns. I remember when I first started using this Whey, it was hard to mix and the flavor left much to be desired. Despite this, I held on, motivated by the remarkable nutritional benefits it promised. Then, to my sheer delight, they made noticeable improvements. The transformation was astounding; it was as if they had unveiled a new, superior version of the old formula.

Mixing became effortless, and the flavor, oh the flavor, became something to relish. It's so tasty that it feels like a cheat treat – only, it isn't! Blending this Whey protein with milk and ice post-workout results in a refreshing, low-carb drink that not only nourishes my muscles but also tantalizes my taste buds. Each sip is a reminder of how far this product has come and how it continues to support my fitness goals in the tastiest way possible. It's no longer a dietary supplement for me, but a delightful reward that I look forward to after every workout.
Why we like the product
Since embarking on my fitness journey, I've tried a wide array of protein powders. None have captivated my taste buds and nutritional needs quite like the Optimum Nutrition Gold Standard 100% Whey Protein Powder, Double Rich Chocolate. As an avid chocolate lover, the flavor is absolutely satisfying, allowing me to indulge my sweet tooth without straying from my health goals. But the appeal of this product goes far beyond taste. Its nutritional profile is just as impressive. Each serving provides 24 grams of high-quality whey protein, assisting in muscle recovery after a strenuous workout and helping me build lean muscle mass. Plus, it has only 3 grams of carbohydrates per serving, aligning perfectly with my low-carb diet. I also appreciate its versatility.

Whether I'm whipping up a post-workout shake or integrating it into my breakfast pancakes, this protein powder blends seamlessly. It's also worth mentioning that this protein powder is gluten-free, accommodating my dietary restrictions. Since I started using the Optimum Nutrition Gold Standard, I've seen tangible improvements in my muscle recovery and overall body composition. It's not just a product for me anymore; it's an integral part of my health journey.
Whey Protein Isolates (WPI) are the purest form of whey protein that currently exists. By using WPI as the primary ingredient along with premium ultra-filtered whey protein concentrate (WPC) in Gold Standard 100% Whey.
GOLD STANDARD 100% WHEY BLEND: 24g blended protein consisting of whey protein isolate, whey protein concentrate, and whey peptides to support lean muscle mass – they don't call it the GOLD STANDARD of quality for nothing.
OVER 5G OF BCAAS – help build lean and strong muscles with naturally occurring BCAAs.
3-4G CARBS, 1-3G SUGAR, AND 1-1.5G FAT, GLUTEN FREE, No Sucralose in Double Rich Chocolate Flavor.
INSTANTIZED – improves mixability to prevent lumps and clumps.
BANNED SUBSTANCE TESTED – highest quality control measures so you feel comfortable and safe consuming the product.
---
In conclusion, navigating the world of low-carb protein options can be daunting. It's essential to remember that the best choice always aligns with your unique health goals, dietary needs, and personal taste preferences. This comprehensive guide to the best low carb protein of 2023 has hopefully provided you with some exciting and nutritionally sound options to explore further. Whether you are a fitness enthusiast, looking to shed a few pounds, or just seeking a healthier lifestyle, integrating these protein powders into your diet can significantly support your journey. Remember, the journey to health and fitness is a marathon, not a sprint. So take your time to experiment and discover what works best for you. And most importantly, keep striving towards a healthier, happier you.
I may receive affiliate compensation for some of the links in this article if you decide to purchase a product. This does not add any additional cost to the products you purchase.
Get The Best Blog Stories into Your inbox!
Sign up for free and be the first to get notified about new posts.